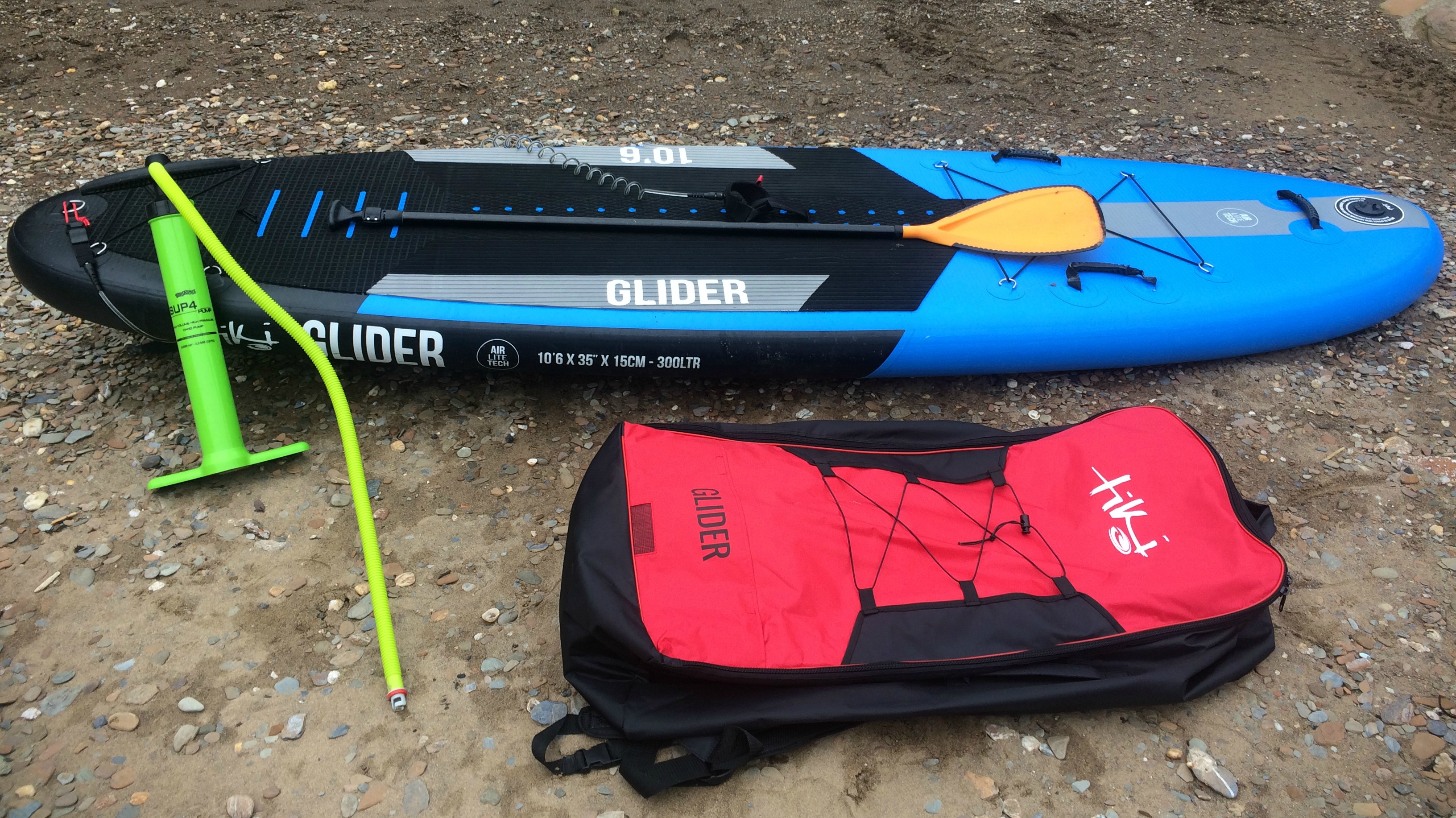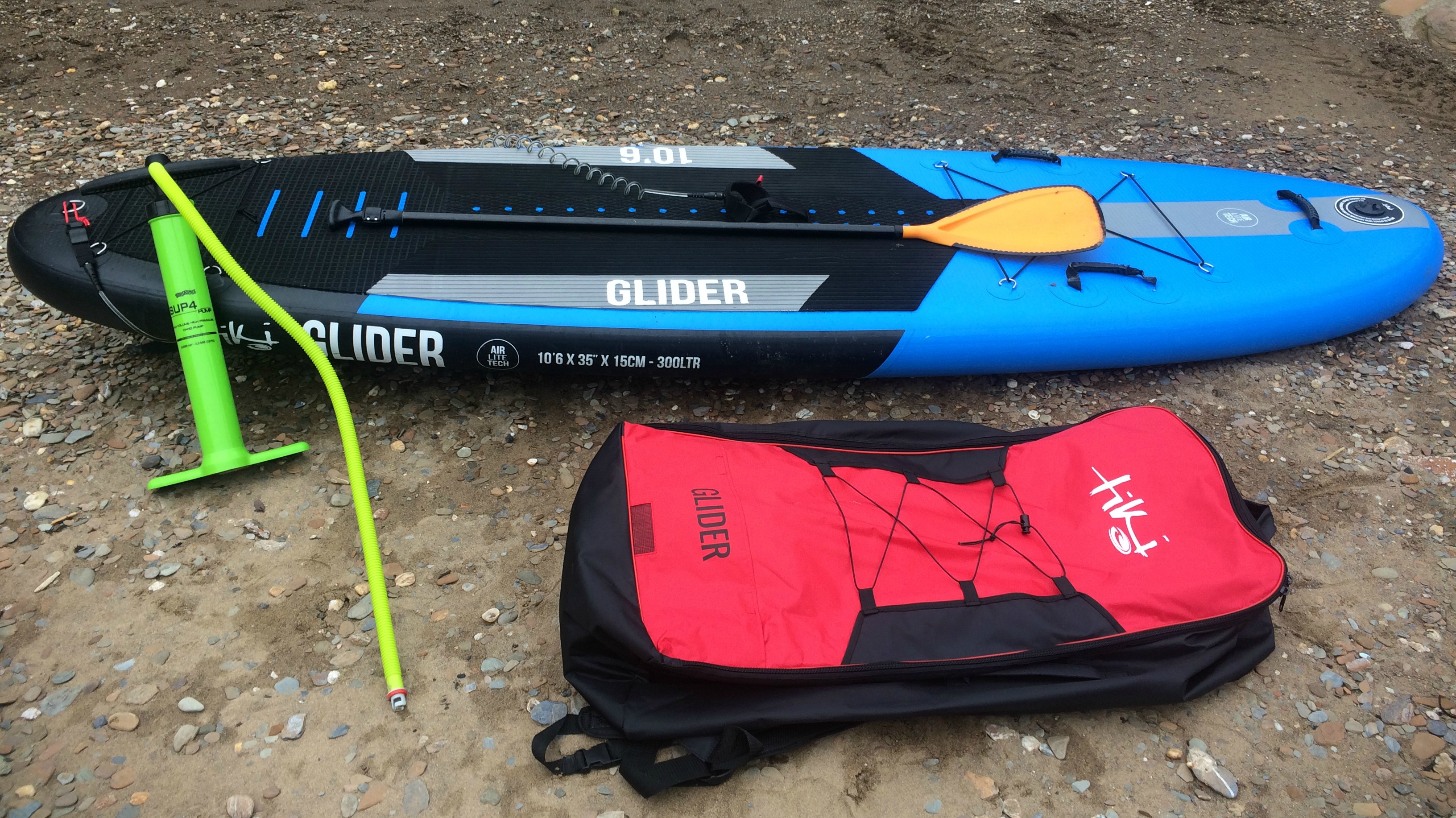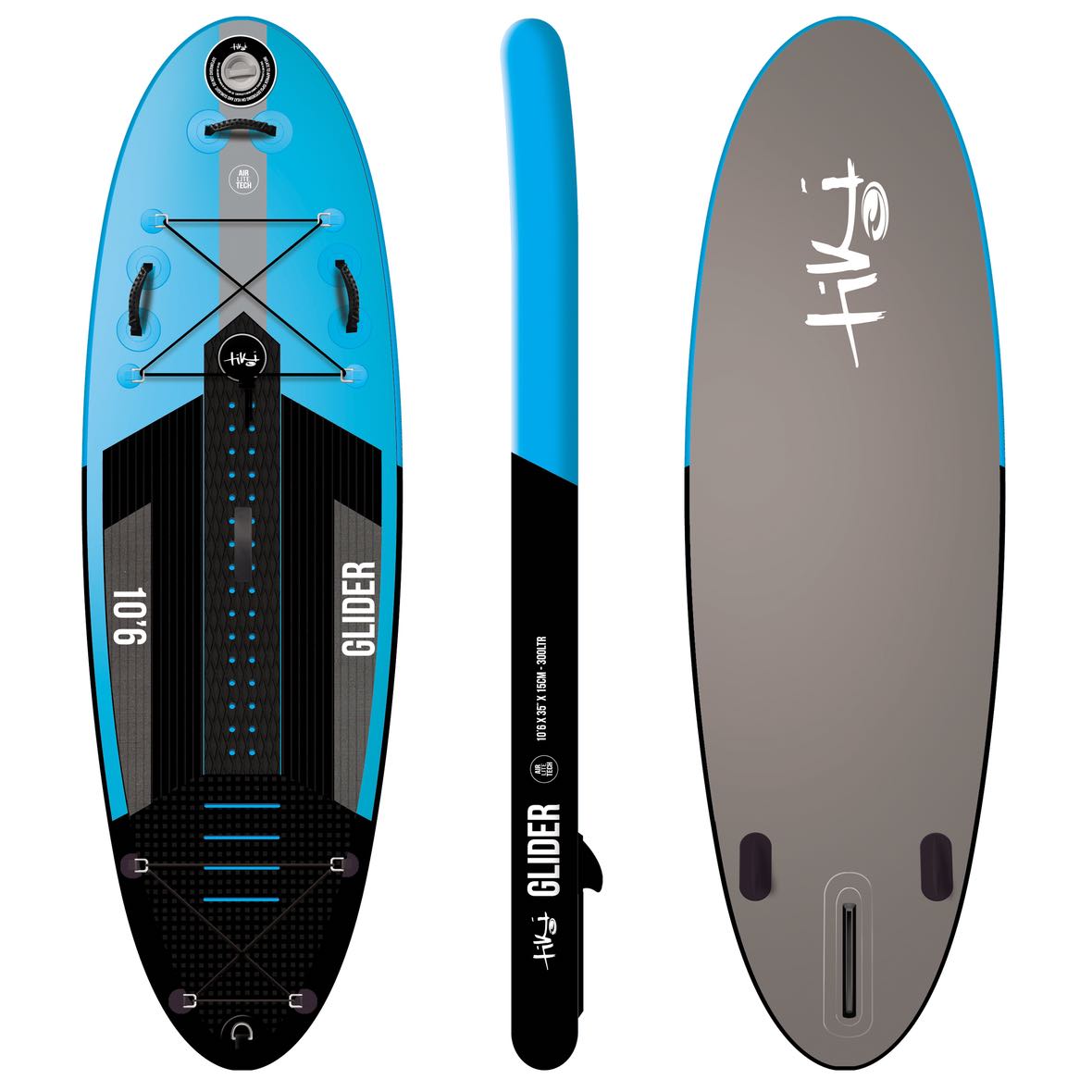 Clearance Tiki Glider SUP
Tiki Glider 10' 6 package stand up paddleboard - never used
£699.00
Probably the best best value board on the market.
How do we know? we use these boards in our hire and lesson fleet and they last and last.  This is one of the most stable hardwearing boards on the market.  You can buy cheaper boards but they wont be as stable or last as long.  So value for money, the Tiki Gliders 10' 6 are the number 1 choice.
Tiki 10ft 6 Inflatable SUP + 3Pce Black Paddle + Leash + Stand Up Board
This Package Includes:
3 Piece Aluminium Adjustable Floating SUP Paddle
Coiled Leash
Double Action Pump with Pressure Gauge, Back Pack Carry Bag, Fins, Emergency Repair Kit
10'6 x 35" x 15cm
Volume: 300 litres
Stainless steel leash D-ring
4 layer rail construction
Nose and front grab handles
Centre carry handle
US fin box (middle fin) compatible, which accepts a standard longboard fin
Middle fin, plate and screw for fixing fin into fin box are all included
Bow cargo bungee
Stern cargo bungee
Super stable
A real 4x4 adventure board
Rugged EVA deck covering
Also includes:
Tiki 3 Piece Aluminium Floating SUP Paddle Lightweight 1.1Kg Adjustable Stand Up Paddle Board Black
3 pieces – usually fits into SUP back pack carry bag with pump and accessory kit. The longest of the 3 pieces is 870mm long, it therefore makes this paddle easy for transportation and for flight luggage etc
Construction - Aluminium shaft, plastic blade, lightweight approx. 1.1Kg
3 Piece Adjustable Floating Paddle - the longest of the 2 pieces is 870mm long
Adjustable from 170cm - 220cm
Easy to use clasp system for quick length adjustment
Aluminium Shaft
Plastic blade
Groove system
ABS blade protection
Colour – Black
This paddle is super versatile for any SUP'er of any size, adjustable from 170cm - 220cm. It will suit anyone from around 5'4 to 6'2. The Aluminium shaft is lightweight and rigid to ensure no loss of paddle power. The plastic blade is also lightweight and strong.
Tiki SUP Coiled Ankle Leash Black
SUP Specific, straight-coil-straight design keeps cord out of the water to reduce drag
Highest quality urethane cord for maximum strength
2x Stainless Swivels to avoid leash snagging up and for maximum strength
Molded neoprene cuff for ankle comfort
Posi-Lock hook & loop closure
3.5" (90mm) railsaver
Beginners:
The All Rounder board gives better glide than most other crossover boards. The 150 mm / 6" thickness gives ample support for up to 120 kg. the wider tail also adds to the stability so beginners don't feel compromised. Suitable for both the Guys and the Ladies as the name "All Rounder" suggests.
Cruising:
The 10'6 All Rounder has all you need for flat water, coastal trips and adventures. Glide and stability in one of the toughest boards around.
Performance:
The All Rounder is a classic crossover board with ample performance without compromising straight-line paddling or tricky manoeuvres
Summary:
If you are looking for a tough "go-to" crossover board at a price that makes sense, look no further.
The All Rounder gives a completely confident and stable under foot feeling to any other board design.
The All Rounder is a fantastic adventure / Cruising / touring board. Good glide characteristics by virtue of the 10'6 long board parallel rails which equates to better glide over most crossover boards. The All Rounder board is built to take the punishment with its 4 layer rails
We only have a few boards at this price as they are last seasons stock that have never been used .  So grab a barging!