Organising the weekend of your best mate's life?
No pressure then. Don't worry though - you've come to the right place. We offer all our extreme activities like coasteering, giant party sup's, surf rafting. As well as more relaxed sports like coastal rafting and SUPing, if they're after chilling not thrilling!
Not sure which activities to choose?
Coasteering is one of our most popular activities for stags, it will have you battling the elements – adrenaline pumping, exciting and fun, you'll swim, climb and jump your way around our coastline. Push your limits with jumps that get higher and higher, with the added bonus that it's the ultimate hang over cure!
For groups of mixed fitness.our Giant Party SUP is perfect! You all go out together on a huge stand up paddle board –  Chill out on the giant sup's, jump off rocks, find coves and beaches, have giant sup races, light a beach fire, toast some marshmallows. We can make it as mellow or high octane as you like. If you want it more extreme – we've got gladiator jousts for last man standing competitions, so you'll have some great war stories for the pub afterwards.
Whatever you chose you're stag will always remember his extreme exit from single life thanks to you (and us). You'll of set the Stag send off standard!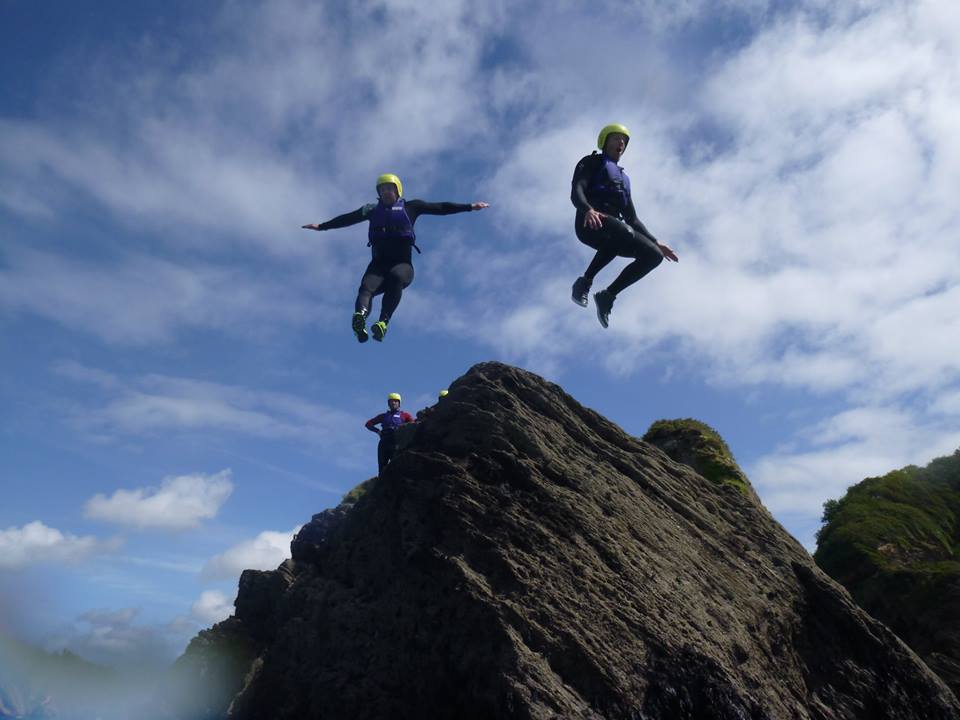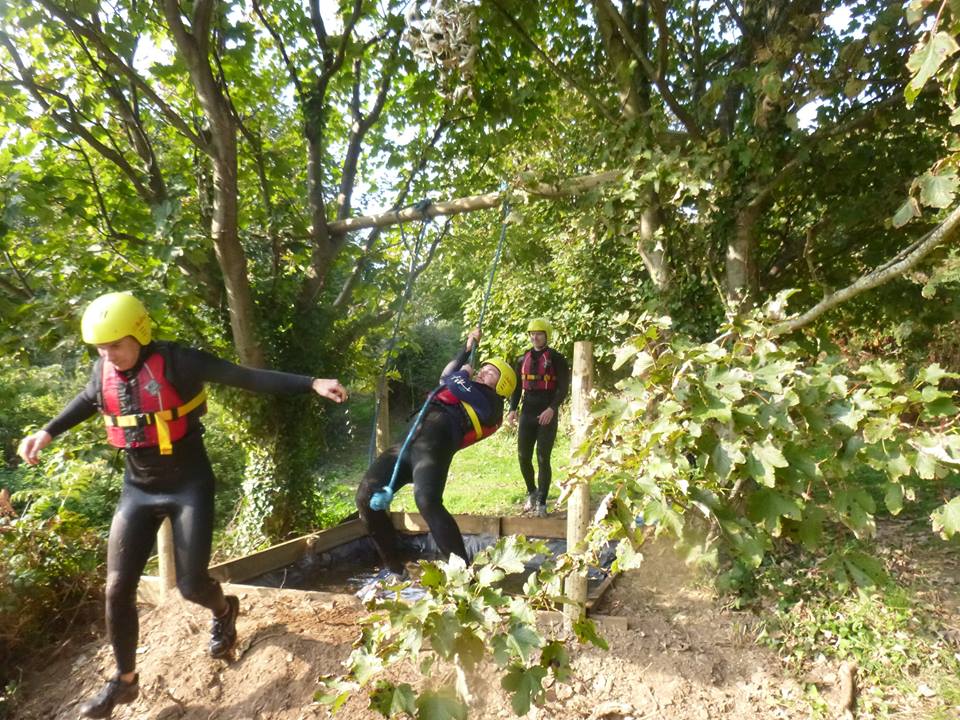 Make a day of it
You can all enjoy our clubhouse with a cafe and bar on site, overlooking the cove. We can provide delicious hot and cold meals and drinks so you can refuel for another activity - or the night ahead.
Make a weekend of it
We can help you put the whole weekend together. So we've teamed up with Europa Park in Woolacombe to offer Stag and Hen accommodation. 
Europa boasts 15 acres filled with surf cabins, lodges and bungalows to make your stay all the more special, with plenty of camping and touring space sharing the glorious views of countryside and sea.
Take a look at Europa's stag and hen packages. 
Get in touch to talk about how we can help you put together the perfect weekend. Contact us
Where are we?
Our HQ is in Watermouth Cove in Ilfracombe and it's our most popular spot with exclusive access to stunning private coastline and caves (not to mention the hot showers, bar and changing areas). 
We also put on activities in Croyde Bay. It can be an amazing location for extreme sports, and has changing facilities.
Want to know more? Email us at info@activeescape.co.uk or give the team a call on 01271320745
Our 14 man stag do was catered for with professionalism, forgiveness of hangovers and a good sense of humour. A great afternoon was spent on the assault course and being towed around at high speed on the inflatables. A good time had by all and we will definitely be returning!
"What a way to spend a Saturday morning!"
We came on a (mixed) Hen do in the middle of June and I had booked in advance the adventure activity for the weekend, which was going to consist of coastal rafting with some coasteering thrown in for good measure. We were all a little bleary eyed from the night before but quickly got into it as we donned our wetsuits and paddled out around the coves. Had an absolutely brilliant 3 hours spent paddling into coves, climbing up rocks and jumping into the (chilly!) sea. We then paddled to shore, made our own fire (!) and roasted marshmallows with a cup of Prosecco. An absolutely brilliant morning and would totally recommend to anyone looking for something to do in Ilfracombe. Joe & Adam were our guides who were totally great- very patient (especially with some who were a little more hesitant about jumping off a rock into the sea!) and had a great sense of humour. Top guys!
We were a really mixed group (several were adamant they weren't doing it when they found out what it was!) but every single one of them embraced it, got stuck in and jumped off the rocks into the sea! We were all agreed that it was highlight of the weekend and would all love to do it again.
Awesome time, will definitely do it again! Thanks guys! Ollie & the Gang
"Amazing hen weekend activity"
We came here for the assault course and it was brilliant! Fun, tough and exciting all rolled into one. Instructor Ben was welcoming & supportive. This is a course for the adventurous and thrill seeking! An amazing activity for hens & stags!! Would definitely recommend!!