This is a great write up by paul truman on a crazy but amazingly fun wild night run. This Wild Night Run series is a great example of the fun and adventure there is to be had in the great outdoors even in the harshest conditions.I'll definitely be signing up to do more events with these guys. 
10 things i learned this weekend whilst running in a blizzard in the pitch dark on dartmoor.
The Wild Night Run (now in its third year) is a hugely mad, hugely muddy, hugely enjoyable 10-mile trek up onto Dartmoor that takes place each winter from a small, perfectly-formed village hall in South Brent.
A few hundred headtorch-wearers start off at dusk, and make a slow, steady climb north onto the moor before following markers across the moor and then looping back down to the village hall to glory and the best beef stew this writer has ever tasted.
Anyway, while I was out there in the snow and wind and dark, I got to thinking…
1) You can tell a lot about an event from the nutters lining up to run it.
In the hall beforehand as a few hundred of us gathered, it was easy to feel intimidated: its claim as one of the toughest 10-milers around means there's no shortage of lean, mean, camelpak-sporting mountain men and women lining up to have a crack at being King or Queen of the Night.
I was nervous, dear reader. The sum of miles in The Bank of Paul for the two months leading up to the run were a slow, wheezy 6 miles round my local north devon coast after a nasty bout of flu at Christmas. This was far from ideal. But I knew if I could crank out six or seven, then I could borrow the last few miles from my legs at the end. Probably.
Looking around though, no-one else seemed to be making this kind of slightly desperate calculation. There were a fair few women runners but the majority were the kind of grizzled, lean, beardy male types who looked like they'd been running on moors since before fell running got rebranded as 'wild running' (see also 'wild swimming', 'wild camping', 'Kim Wild(e)' etc).
But tonight really was 'wild', in its truest sense of the word. The organisers had delivered exactly what they possibly dreamed of — if you're planning a night run on dartmoor for the end of January, that is. It was blizzarding on top of the moor, the temperature was nuzzling its way down to freezing while winds were up to 20mph and guaranteed to be in our faces for a few early miles. Perfect conditions, basically.
2) Running uphill for 5 miles can really harsh your mellow.
What I love about the WNR is that it doesn't mess about. There's a ruddy great big moor right slap bang next to the start line, and once you've stood outside the hall, bouncing up and down with everyone else to keep warm, headtorch lights blazing in the dusk — then you're off and climbing it.
The first mile or so is a solid gradient-chewing thrill-ride* as you climb up out of South Brent before heading through a muddy tree-lined single track route for another few miles.
I'm not going to lie, here's where a fell run differs from a gentle 5k parkrun: there's not a lot of chat in those early miles. A communal, unspoken agreement that you're all lunatics? Yes. But the hills and the single file track take care of the conversation.
So you fall into a companionable silence as you follow the lights ahead of you, try and regulate your speed and your breathing into something you're comfortable with and only occasionally in those early single file stages through the woods do you even find yourself alongside someone else.
*definitions of 'thrill-ride' may vary
3) The cold air is on intimate terms with your lungs
After those first three miles you come out onto wider track that you follow north all the way up onto the moor; which is when a strong, icy southerly wind really is not your friend.
Gulp too much through your mouth, as I did and you find that the wind will take the invitation to reach its fist right down your open throat and give your lungs a good scouring.
To be honest you don't even really notice at the time, you're too busy laughing as the wind slams into you, instantly puffballs your jacket and does its damnedest to push you all the way back down the hill you've just come up.
And you're laughing because this is when the lunacy of what you're all doingreallystarts to kick in…
4) Being on a windy moor in the dark in the snow with lots of other people is not normal.
There was a moment about 4 miles in as we headed up onto the moor where I looked back and saw a snaking trail of headtorches behind me. It was then that I remembered why I had loved the event so much last year: it's the surreal, gleeful stupidity of it.
We had, each of us, abandoned the myriad delights of a conventional Saturday winter's night and left behind warm, softly-lit rooms with wine and roaring fires and wine and telly and dinner, also wine, to do this instead.
Idiots.
But strangely, running out together en masse in midwinter in the dark onto a moor in a blizzard feels like communal lunacy. It feels joyful. Almost disobedient. Like we're all getting away with something. Like the organisers had organised a house party but they threw it on the top of a hill in the windy dark. And, somehow, hundreds of people have turned up ready to party.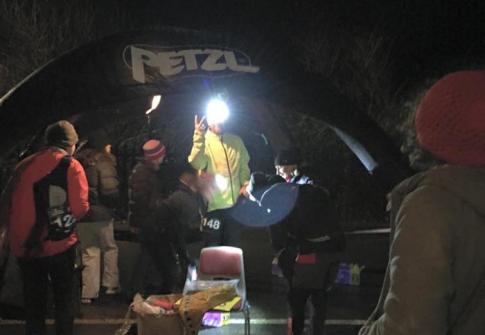 5) There is NO rush like endorphins + sugar
Like any select group of finely-tuned athletes, my friends and I had lain waste to a packet of chocolate hob-nobs before we ran, but knowing how undercooked I was I had packed a secret weapon in the shape of some sexy-looking energy bar with lots of SHOUTY SCIENCE on the front.
Nibbling half of it before the start meant it was now kicking in beautifully and set me up for at least a mile of pure, throbbing happy. The moon was out along with a handful of stars against an inky sky and I was flooded with that rare, overwhelming sense of being in exactly the right place at the right time. The place being a wet, boggy moor and the time being one very cold night in the arse end of winter.
We were now on top of the moor at last, which meant finally running on the flat (aside from the mud, streams and huge tufts of moorland grass looking to break your ankles, natch).
But I didn't care about broken ankles, I didn't care about the snow coming down hard, I had made it to the top still feeling pretty good (feeling pretty fantastic actually thanks to my leetle glucose friend) and there may even have been some whooping as I jumped over the odd stream.
Shortly followed a lot of swearing as I mis-timed a jump over a stream and landed thigh-deep in a bog.
6)There is nothing quite so unnerving as getting an ice cream headache without eating ice cream.
Coming down off a moor in a blizzard in the dark with the blast of a 20mph wind behind you is something everyone should have a go at. The upside is that you basically fly down the hill: we were practically airborne. The downside is that the snow is slowly blanketing your entire head.
I don't usually run with a hat and tonight was no different. Big mistake. So after five minutes of blizzard the whole back of my head was icy and throbbing. It was a really odd sensation — I may even have whooped again at the strangeness of pelting down a hill almost blind, as our torches shone off the flakes rather than showing the track — but boy did it hurt.
For anyone who has read the brilliant Oatmeal comic strip on why Matthew Inman runs long distances, let me say this: I was having my very own 'raging forest full of beauty and agony' moment.
My legs were still enjoying what was to be a last hurrah and I still felt strong. The rawer the wind, the colder the snow, the harsher the blizzard — it didn't matter. The elements could do one, frankly.
7) You can't fool all your legs all of the time.
If you don't have the miles in the bank, sooner or later the bailiffs are coming round. They turned up for me at 8 miles and they weren't happy. Turns out six miles in eight weeks wasn't enough for a hilly, boggy 10 miler that runs as long as most half marathons. Who knew?
I started to realise that I had, effectively, been trying to take the piss out of Dartmoor — and now it was payback time.
8) The kindness of stewards is amazing
People of South Brent, I salute you! Dozens of people turned out to stand for hours in the freezing cold and shout massively helpful advice at increasingly knackered, muddy, bewildered people.
You stood on moors, on pitch-black trackways, in ditches and some of you even gave us water and jelly beans. You've never seen optimism personifed until you've seen two stewards attempting to man a water station with flimsy plastic cups in the pitch dark in a small gale on the side of a moor.
9) You can pretend you're Michael Douglas in Romancing the Stone
I don't mind mud — I live in north devon and own a dog for god's sake — so for at least three months of the year, mud and I are on first name terms.
But the combination of very tired legs, steep gradient, plus thick mud churned by a few hundred people coming back down the last mile or so into south brent was really quite something.
Do you remember the mudslide scene in Romancing the Stone? It's basically that, but with lycra and trail shoes. Just you, a really steep hill and a hell of a lot of wet mud. Minus Kathleen Turner and a plane full of weed, sadly. I have never been so pleased to see tarmac in my life.
10) Absolutely nothing on earth tastes as good as hot stew after a cold run
I have a new rule in my life: if Kitchen Table are catering a running event, then I shall run it. Totnes' finest have provided me with two of the best meals of my life over the last two years, delicious, steaming bowls of chilli and beef stew, hunks of homemade bread with knobs of salty butter waiting to be spread and the cake. And the cake. OhmyGodthecake. Thick slabs of fruity, moist heaven on a plate. Yes alright it tastes better because I feel hollowed out from the run and ravenous, but it's also because it's damned lovely grub.
I genuinely think I've never been happier in my life than in this final shot: stretching, eating and not running.
Toodle-oo.